Dr. Linda Yang
Ontario Certified Acupuncturist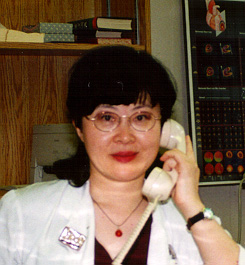 Dr. Linda Yang is a Chinese medical professional, graduated from Shanghai Medical University, China. She have had more than 10 years experience working in North America Hospitals. Dr. Linda Yang was also specialized in acupuncture and Chinese medicine since her graduation and got years of intensive training in Shanghai Traditional Chinese Medical University, and Gan Shou Provincial Chinese Traditional Hospital in this field after her medical school . She was an Acupuncturist for 8 years in China, and keep practicing in this field after she came to Canada . She is a CERTIFIED ACUPUNCTURIST in Ontario now, having her Acupuncture Clinic in down town, City of Toronto.


Ease Island Acupuncture Clinic

702 Euclid Ave., Toronto
Ontario, M6G 2T9, Canada

Tel: (416)533-7636, Fax: (416)537-9233.
Specialized in :

Pain Syndrome, acute injury or chronic, severe,
long lasting (Headache, Facial Pain, Neck & Shoulder,
Low Back & Leg Pain)

Osteoarthritis

Insomnia, Stress & Depression

Post Stroke Rehabilitation

Post Chemotherapy Syndrome

Computer Syndrome

Carpal Tunnel Syndrome

Tennis Elbow

Epigastric Pain & Disorder

Menstrual Disorder

Sixty plus health keeping ( Seniors get energy back again)

Quitting smoke, Asthma, Diabetes and etc.